The Google Vanity Ring is a special piece of net-ready jewelry that provides a concrete number for your ego googling.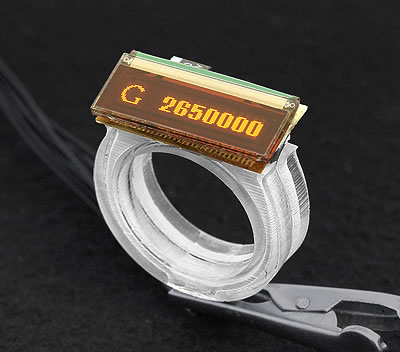 (Google Vanity Ring)
Here's how it works. Rather than a precious gem, the ring displays something even more precious - the number of hits you get on Google when you check for reference to your name. Every night, you put it in its little cradle connected to your computer. Then, you type in your name in the application window; the application then googles you and displays the number of hits - also called "attention carats" - on the face of the ring.
(Google Vanity Ring video)
The ring is a special project by Markus Kison, who is now looking for a company to produce it commercially. I know this reminds me of something science-fictional, but I can't think of what.
More information here.